Dear Freinds,
For the past 18 years YWAM Heredia has been renting a beautiful property in Los Angeles de San Rafael de Heredia. The property is a little over 6 acres of green area and cypress trees located at 5000 ft elevation in the Northern Mountains of the central valley in Costa Rica.
It has always been our desire to purchase the property but for many years it was not for sale. We desperately need to build more housing so we can continue to grow but our board of directors has asked us not to continue to build until we have secured the property. We currently only have housing for around 50 people and many times we are faced with trying to find housing for 80-100 people which is really a stretch for us in our current situation.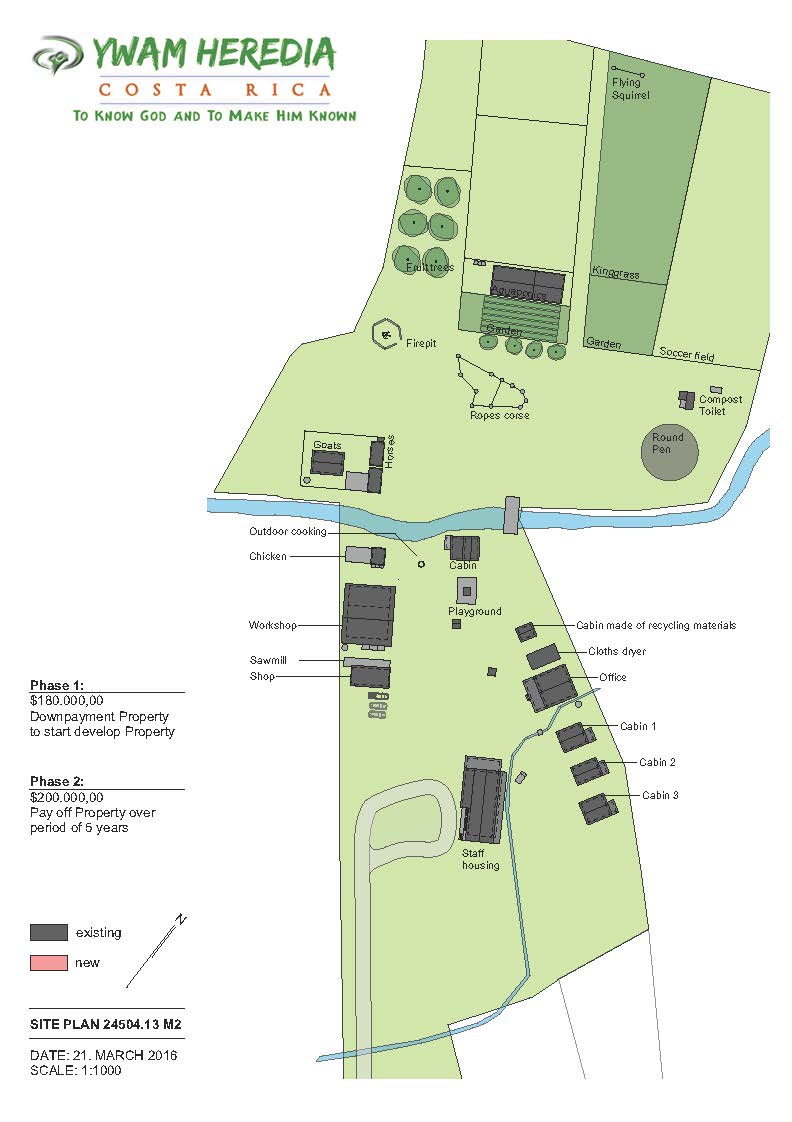 In the past 4 years the owner has expressed an interest in selling the property to us but we had not agreed on the terms of that sale. Last year they agreed to sell us the property for the appraised value of $436,000. We asked if the improvements that we have made over the years could be deducted from the sale price which they agreed to. The value of our improvements at that time were $50,000 which would make the purchase price $380,000. Land here is sold by the square meter and the going rate is around $30-$60 per sq. meter. At the price they are offering us the property we could buy it for only $16 per sq. meter which is a real bargain. At first they wanted a cash sale which was not possible for us but recently they have agreed to sell us the property for 30% down and 5 years to pay the balance. The owner would finance the balance at the current interest rate.
The proposal we would like to make to you is that each of you help us raise the down payment of $114,000 plus an additional $66,000 which would help us get started with the new building. What we are looking for then is 18 people who would commit to raise $10,000 each or $180,000 total which would leave us with only a $200,000 balance to pay over 5 years. We are currently paying $21,000 per year in rent. Our yearly income the past two years has been around $120,000. By doubling the amount we are currently paying per year we could make the mortgage payments to the owner. The $42,000 payment per year would only represent 30 % of our total income which is well below normally recommended payment to income standards.
We ask that you please pray about supporting us in this effort. We believe that God has given us this property as part of our spiritual inheritance in this country so that we can continue to do the work he has called us to do. All funds can be processed through Mission Enablers International a US non – profit or through YWAM Vancouver for Canadian donors. You will receive a tax deductible receipt for your donation plus our sincere thanks. Please let us know if you want to be involved. We look forward to hearing from you.
Yours in Christ,
Terry Keith
Director YWAM Heredia
Costa Rica
Clarification: The appraisal is a few years old so the amounts could vary a little by the time of closing due to that.